CEMS - Dilution Extractive: Walk-In Shelter
AMP-Cherokee's walk-in Dilution Extractive CEMS is offered in an instrument rack design. Our walk-in shelters are available for either general purpose or explosion proof applications. AMP-Cherokee also offers a compact self-contained walk-up shelter (See MiniCEMS®) for space constrained or budget conscious applications. The local 15" color touch-screen HMI interface and plug-and-play component functional design sets a new standard for CEMS reliability and ease of operation.

AMP-Cherokee is one of just a few CEMS integrators that offers our own Data Acquisition System (DAS) software, DAS ProLogix™. is currently the only DAHS on the market which has an integrated PEMS module that can be used as follows:

•
Quality Check on CEMS
•
Redundant monitoring to CEMS
•
Replacement for CEMS in the future (if PS 16 is met)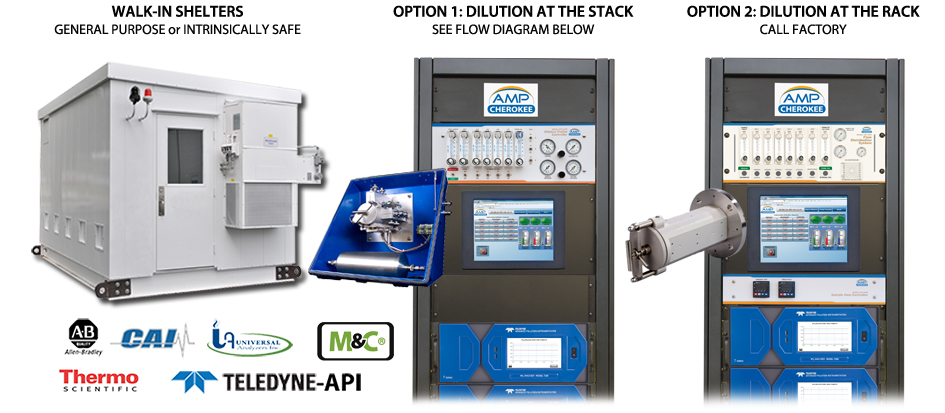 CEMS - Dilution Flow Diagram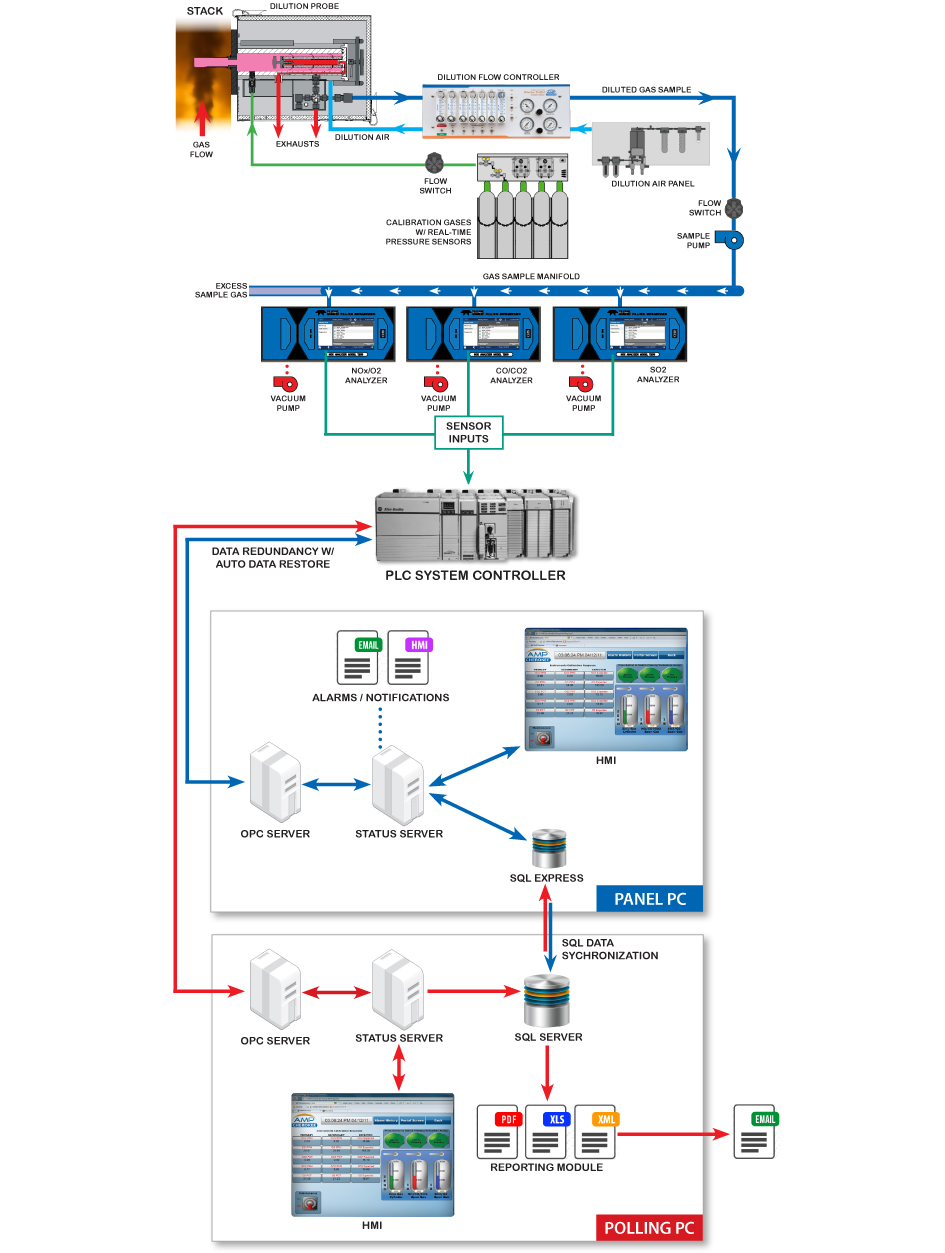 CEMS Standard Features
• 15" Touch-screen HMI interface in instrument rack
• Redundant dilution air, vacuum, and calibration tubing
• Dilution drawer can handle 3 analyzers and 5 calibration gases
• Side maintenance bay for ease of access (instrument rack model)
ProLogix™ DAHS Standard Features

• Allen Bradley PLC System Controller
• Redundant SQL databases
• Local & Remote Data Logging
• Automated Report Generation
• Automated Report Distribution via email
• Automated System Alerts via email
• Report formats in excel, pdf, and html
• Integrated PEMS module
Optional Features
• Redundant analyzers used for stand-by or back-up applications
• Real-time calibration gas pressure/ alarm
• Hybrid CEMS utilizing integrated PEMS module
• Ability to switch over to PEMS in the future thereby saving up to 60% in operating costs
Parameters Monitored
• NOx • SO2 • CO2 • O2 • CO • THC • TRS • Hg • H2S
• HCl • HF • NH3 • Opacity • Volumetric Flow • Moisture • Particulate

Contact AMP-Cherokee today at 800.399.4236 or sales@ampcherokee.com for a free consultation on your compliance monitoring and process performance needs.