DAS Pro-Logix 60 for CEMS & PEMS
Open Architecture | SCADA Ready | Network IP Data Delivery | Emissions & Process Measurement
DAS Pro-Logix 60 is a PLC-based software with a touchscreen HMI interface for monitoring nitrogen oxides, sulfur dioxide, carbon monoxide, carbon dioxide, oxygen and opacity -- critical measurements for emissions compliance and process measurement of gas, oil and biomass-fired sources.
Click the Components tab below for sample HMI screens.

DAS Flow Diagram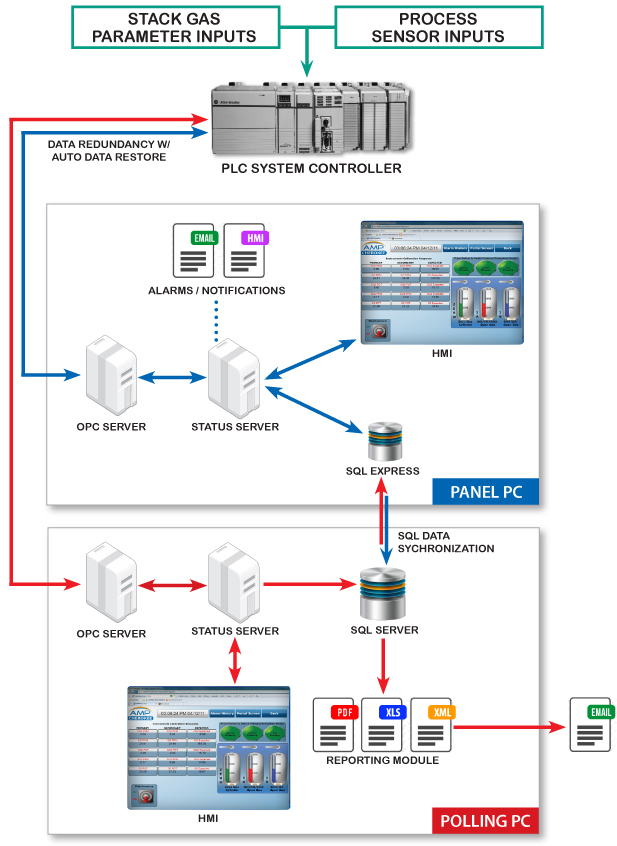 Open Architecture. HMI>Network Interface.
Our open architecture DAS ProLogix data acquisition and reporting software with its HMI>Network Interface™ and Allen-Bradley® PLC provides network connectivity and remote operation.

Allen-Bradley Ethernet/IP PLCs.
DAS Pro-Logix 60 utilizes an Allen-Bradley® Ethernet/IP PLC for transferring data to plant operators. Ethernet/IP, Modbus (TCP, RTU, Serial), Profibus and HART protocols are available.

Open DAS Architecture.
Microsoft® SQL Database.
SCADA Drag & Drop Development.
Through its open architecture, the ProLogix Data Acquisition System (DAS) collects emissions and process data and stores it in a Microsoft® SQL database.

AMP-Cherokee's unique HMI>Network Interface™ provides distribution of data and reports to the client network and remote devices.

Real Time & Historical Displays.
DAS Pro-Logix 60 has customizable real time and historical display graphs to allow monitoring of emissions and process parameters.

DAS Pro-Logix 60 Reporting Suite
Pro-Logix Reporting Suite provides Part 60 compliant reporting, including daily calibrations, emissions reporting, and rolling averages.

Data Redundancy and Recovery.
Network Remote Controls.
Alarms and Notifications.
DAS Pro-Logix 60 provides two levels of data redundancy. Data is continuously stored to both the onboard PLC and panel PC before it is sent to the client network.

In the event of a loss of communication with the client network, data continues to be stored at the Panel PC. When communications are reestablished, any data gaps are automatically updated on the client network.

Addressable locations on your network can be assigned to receive current status, scheduled reports and system alarms. Alarm utilities can be set to alert plant personnel via email -- on or off the network.

DAS Pro-Logix 60 controls operations and monitors the health status of your CEMS. User-configurable critical and noncritical email alarms can be configured across your monitoring network. Remote access provides administration level operations, as well as, troubleshooting to locate CEMS faults.

Menu Configuration
Simple pulldown menu-driven screen selections take the operator to key functions of the CEMS operation and data acquisition system (DAS). The display acts as an intuitive control panel of all the operator functions and monitoring displays during operation.
System & Analyzer Health
For checks on the mechanical condition of your CEMS system and analyzers, consulting these screens for status and settings of critical components to confirm proper hardware functionality.
Real Time Trends
Dynamic data visibility is the fastest way to be assured your plant source is operating within acceptable emissions parameters. Often set as default screen views, these live screens are powerful process and performance monitors.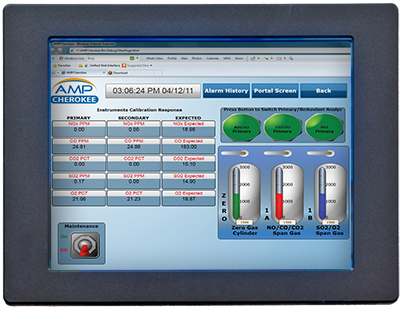 | | |
| --- | --- |
| Main Portal | System Health |
| Calibration - Daily & Manual | Calibration Sequence Editor |
| Primary Real Time Display | Secondary Real Time Display |
| Digital Outputs Editor | Digital Inputs Editor |
| Analog Editor | Cylinder Pressure Log |
| NOx Primary Faults | CO/CO2 Primary Faults |
| SO2 Primary Faults | Alarms & Reporting Suite |